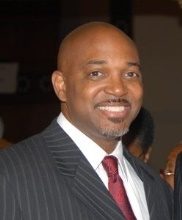 Greetings! The Pastor, Officers and members of the Bronx Seventh-day Adventist Church, welcome you to its web presence.
We are pleased that you've been led to visit our site. We trust that your visit with us will be informative, spirit-filled; and perhaps help make you stronger to face the rest of your day. We encourage you to worship with us, in person whenever you're in our area - you are guaranteed a blessing. However, thanks for visiting our site. May the sweet spirit of our Lord direct your will and your ways.
Now a little something about his background:
Dr. J. Kendall Guy was born in Chicago, IL. His early childhood was spent in New York city where his late father, John F. Guy pastored for many years. Dr. Kendall Guy
received a B.A in Theology from Oakwood University, Huntsville AL, a M.Div. from Andrew's University and a D.Min. from United Methodist Theological Seminary, Dayton, OH, in Church Organization. He has pastored in Brockton, MA, Buffalo, NY, Harlem, NY, Los Angeles and most recently, the 1100 member congregation in Oakland, CA.
He is married to the former Ann Lawrence, a native of Jamaica WI, they have four adult children, Takiaya (married), Marcellus (married), Marcus (married) and Alicia now residing in Wisconsin (for employment purposes).  Pastor and Mrs. Guy recently became grandparents to an adorable grandson for a total of five grandchildren.

Dr. Guy has returned to his former homestead to lead the Bronx Church, established in 1949 who's mission is Serving God and Servicing Humanity. He will perpetuate the outreach programs now in effect and develop new and meaningful projects to help sustain the membership and community in these difficult economic times, notwithstanding being spiritual leader for all.

Dr. Guy's drum beat is to put the love of God in action. His hallmark is preaching, reaching, and teaching, and that the gospel saves and that there is power in prayer. A member of numerous-prolific boards and national committees, he is still first and foremost, a child of the King.

Despite his professional responsibilities, he never forgets that he is a servant leader, a loyal husband and companion to Ann, and the paternal inspiration to Marcus, Alicia, Marcellus and Takiaya. He stands ready to be used by God whenever and wherever. So when the call came to return to NYC and guide the congregants on Washington Ave, Bronx, NY, he acknowledged God's guidance and graciously accepted.

Says Pastor Guy:
"Our web site is an extension of our church, and we pray that it will be a blessing to you. It is our desire that everyone accept Jesus Christ as their personal Lord and Savior and experience His love, joy, peace, and forgiveness. We trust that our church and Web site have an atmosphere where you can experience the hope, healing, and joy that comes from God.
We'd love for you to visit us this Saturday for interactive Bible study and/or our Worship Service Celebration. Click here to get directions and information about our church services and services.
Perhaps you may be unable to attend our worship service in person, but would like to sign up for on-line bible studies, etc. (see below). Please feel free to avail yourself to any or all of the links below. And if I can be of service to you in any way, contact me at your convenience: bronxchurch@gmail.com."