USHERING is an important and crucial ministry because it is one of the most visible in the church.
The Bronx Church Usher Board is made up of all ages… young as 10 years old and to age 83 years "young", both male and female.
 Some of the duties and responsibilities we have embraced:
Greeting worshippers and making them feel welcome and comfortable
Escorting visitors (and members) to available seats.
Being friendly and having a quick smile
Keeping reverence in the sanctuary
Maintaining church decorum and its policies
Handing out welcome cards and gifts, distributing weekly bulletins, etc.
Receive offerings
Directing visitors to the various comforts provided in the church
Being alert to members and visitors' needs and emergencies.
One of the first people you meet when entering the Bronx Church is probably a member of the Usher Board
Ken our Head Usher this year says,
"We look forward to having you join our team or just come by our church for a visit. It will be our honor to seat you."
READY TO SERVE IS OUR MOTTO AND KEEPING REVERENCE IS OUR GOAL.
October  is USHER Recognition month.
We will hi-light the contribution made by our ushers by having the 3rd Sabbath set aside for this occasion. Afternoon of Ushers performing with a social to follow is under consideration.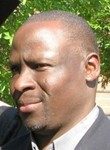 Head Usher  Kehinde Jegede
 Usher Board:  Karl Sappleton, Pauline Nelson, Lyndon Williams & Olutunde Jegede