Our goals are to provide spiritual counsel, direction, build relationships and promote family interaction. Our primary emphases for 2018 are to awaken the membership to the importance of socialization and healthy family communication and togetherness which is God's ideals for a Christ -centered existence.
Throughout the year, we provide timely information to the membership about upcoming seminars and retreats that promote the family". We recognize that the "family" comes in all shapes and sizes so we do not focus on just the marrieds-with-children. We include information and material that benefit the singles, the single-parents, the empty-nest family, the divorced, widowed - and all other family units.
HERE'S a GREAT WEBSITE on THE CHRISTIAN FAMILY that OFFERS a wealth of INFORMATION (click here)
Present and On-going:
The Conference-sponsored retreats in 2016 and 2018 were inspirational, exciting, chocked full of ideas and ways to help our church families.  Retreat 2021 (which may be virtual) promises to be bigger and better, which is hard to imagine. As information is gathered, we will pass it on so that everybody can avail themselves of this family gathering and learning experience which enhances and uplifts the spirit. Whether you're a family of one or one hundred, come and fellowship with the family of God. For more information, call 718 291 8006 - Ext. 248.
1. Here at the Bronx Seventh-Day Adventist Church, plans are in the works to help make the family the unit GOD wants it to be.  Seminars on parenting, grandparenting and relationships are on the horizon as is a special interactive presentation on FORGIVENESS.  Other family issues will be addressed as well:
Training for first- time parents
Divorce, When NOT to and Why.
Blended Families - The Challenges
Anger & Conflict Management
Bad Memories and how to Cope
2. A day dedicated to the re-introduction of our newly baptized members into the church family.
For 2020-2021, we plan to continue with the introductory packets for new mothers, the newly marrieds, and possibly add one for the new "grandparent".  We recognize the challenges teenagers face from their peers as well as from society and we will work with the AYM in presenting programming and "tools" to help them make right choices.  Working with our Education Dept., we will recognize families who have graduates as well as commend those who may have personal achievements.  Our Church is blessed with certified and trained individuals who can facilitate workshops and seminars on the changing family dynamics. . 

3.  A Couple's Ministry and also a  Men's Ministry for males 15 years and up has begun and the signs are that both ministries are doing a good work and have exciting plans for the year.
One of our priorities is to make certain that we, in the Family Life Department stay in touch with the entire church family throughout the year via telephone calls, missing-you cards and visits especially during times of difficulties, challenges or adjustments to the family.

Enriching Your Parent-child Relationship (by Susan Baker, Message Magazine)
Children Need a Sense of Significance
Children Need Security
Children Need Acceptance
Children Need to Love and Be Loved
Children Need Praise
Children Need Discipline
Children Need GOD

2020 is now in the history books and we look forward to an exciting 2021 for each of our family units.  Plan now to  make a commitment to have 2021 remembered as a very special year.  It is never too late to kick start new habits - so PLAN to: start each day with morning devotion - in the beginning, keep it short and impactful (a song familiar to the children, the day's reading from the children's devotional book, short discussion and prayer). Initially, it may be a little inconvenient to set aside the time, and it may throw off your day's routine, the kids may not be too easily acclimated to the change in their schedules or you may be a bit late for work, but take heart, eventually things will work out and the benefits will be immeasurable. (How do I know? Because God's promises are sure!)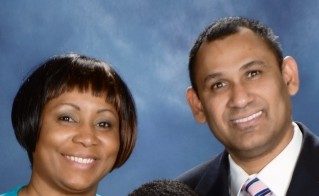 Family Life Leaders:      Elder Pershard & Sharon Mohammed